MAY 2016
May 20-21, 2016: Wyoming Outdoor Expo
WHAT:  Wyoming Outdoor Expo
LOCATION:  Lander Community Center
TIME:  Friday 12:00pm-9:00pm, Saturday 9:00am-7:00pm
May 25, 2016: Group 2016 Scholarship Award Ceremony
LOCATION:  One Shot Antelope Museum
JUNE 2016
June 9-12, 2016: Foo Foo Rah         (Click Here for Foo Foo Rah Brochure)
LOCATION: Saratoga, Wyoming
VENUE: Old Baldy Club
JULY 2016
July 15-16, 2016: Semino Guzzler Camp Project    (Details TBA)
SEPTEMBER 2016
September 15-17, 2016: One Shot Antelope Hunt   (Itinerary & Schedule of Events TBA)
LOCATION: Lander, Wyoming
BANQUET VENUE: Lander Community Center
Recent Events
---
Seminoe Guzzler Install
In Mid July in cooperation with the Wild Sheep Foundation and Game and Fish, Water for Wildlife helped fund and construct the Seminoe Mountain Guzzler. This Guzzler will provide a reliable water source for the big horn sheep population that resides in the area as well as many other game and non game species. Thank you to all the volunteers who came out to help construct the project.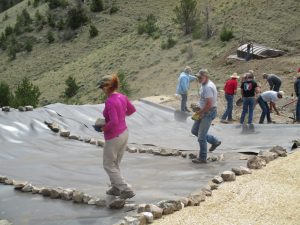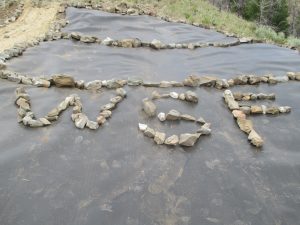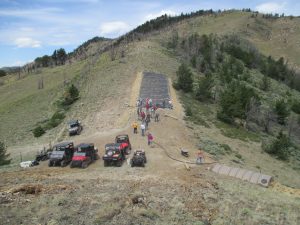 ---
Foo Foo Rah Field Tour 2016
We recently had our annual meeting for Water for Wildlife down in Saratoga during the weekend of June 11th. The meetings went well, and we had the opportunity to take a small group of passionate conservationists out to look at one of the water for wildlife projects Southeast of Saratoga. The project we visited was the A-A guzzler. The A-A Guzzler was funded for installation by Water for Wildlife in 1990 and was installed during the following summer. It was noticed in 2008 that the project needed repairs and was approved and funded by Water for Wildlife for the repairs to be completed in the following summer. Here are a few photos from the tour: We would like to thank the Wyoming Game and Fish for helping ensure the success of this field tour.