Welcome to the
77th Anniversary of the One Shot Antelope Hunt!
Event Dates: September 13-16, 2017
Schedule of Events Coming Soon.
Custom One Shot apparel and merchandise will be sold exclusively at
the Lander Community Center, during our historic event.
Get yours while supplies last!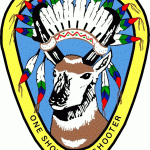 For more information please call:  307-332-8190
---
        Recognizing that many former One Shot Antelope Hunt team members return year after year to renew old friendships, the One Shot Antelope Hunt's Past Shooters Club was formed on September 2, 1955. It's mission then and now is to "aid and assist the Lander One Shot Antelope Hunt Club… cooperate with and assist in wildlife management and preservation… to foster and perpetuate reasonable and controlled hunting of such wildlife in accordance with good sportsmanlike practices and hunting procedures… and to sponsor and control an annual meeting or assembly of all members coincident with the holding of the (One Shot Hunt) each year… to encourage and demonstrate good fellowship and sportsmanship in the hunting of wild game."
         Harrison Johnson was elected the first President. George Case, of Lander, became Secretary – Treasurer, a job that eventually became that of the Executive Vice – President, who is always located in Lander. The exclusive Past Shooter Club has included many famous names over the years. Such as Tennessee Ernie Ford, Steve Allen, Edgar Bergen, Bill Dana, James Drury, George Montgomery, Joe Foss, Charlie Daniels, Larry Hagman, Tex Ritter, and Charlie Walker. The participants have included astronauts and cosmonauts, musicians, statesmen diplomats, editors and publishers, and business leaders. Opera star Lauritz Melchior, General Norman Schwarzkopf, General Chuck Yeager, Roy Rogers, and singer Hank Thompson shot on more than one team.